Daisy & Baboo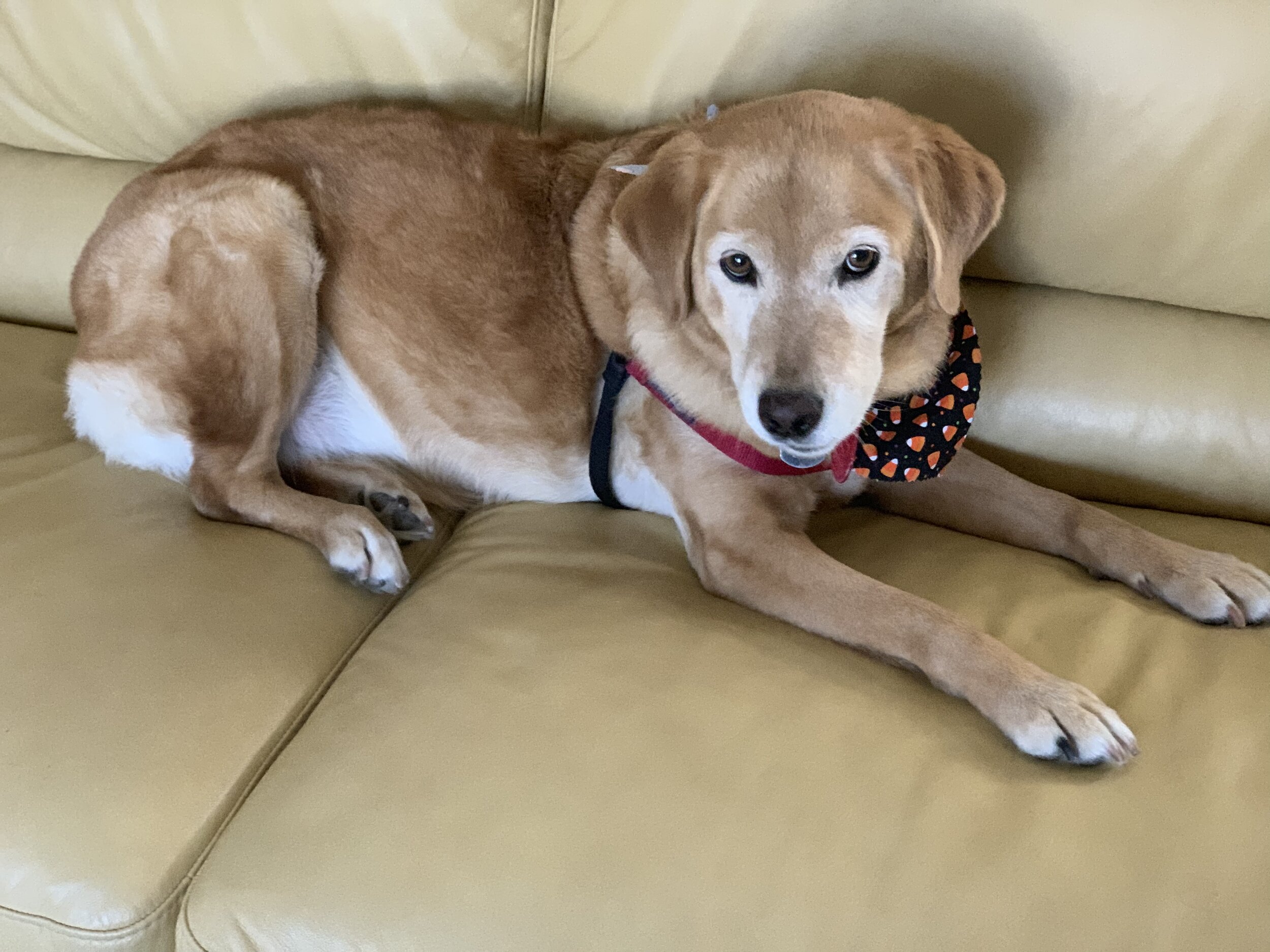 Meet Darling Daisy & Baby! Golden Retriever mix females 5/6 & 7 years old. A bonded pair looking for a happy home.
Background: Daisy and her sister Baby were first adopted through HFP two years ago after being rescued from a backyard only situation. They were never allowed inside and spent their days together isolated in a backyard with the occasional presence of children and chihuahuas coming in and out of the house. They never received love, attention, or were ever welcomed inside.
After we accepted them in our program, they found a great home in Sacramento, However, due to recent health issues, their adopters are no longer being able to take proper care of them, so once again Daisy and Baby are looking for a family (strong preference that they go together.)
Owner Surrender Notes: "Daisy and her sister (Baboo) are the sweetest, most loving dogs I have ever owned. Daisy is protective of Baboo and her owners. She is also easy going and loves to play chase with Baboo in wide open spaces. She will come to you when she needs out. They do not cross thresholds and do not come in the kitchen. She will bring her new owners great love and joy.
Baboo is a sweet and loving dog. Protective and easy to train. She does pull a little on the leash sometimes. She is a love pup and loves attention. Both Baboo and her sister Daisy are inseparable and just the most loving dogs you will ever have the pleasure to be with.
Check the words that best describe your dogs.: FRIENDLY, PROTECTIVE, SHY, QUIET, NERVOUS, AFFECTIONATE, CALM, GENTLE
Housetrained, Vaccinated, Spayed, Vetted, up to date on monthly preventatives.
Daisy gets along with her sibling Baboo. They have no other dog friends, but seem ok with little dogs. They do not care for medium to large dogs. They can be leash reactive to dogs in public so would do best in a quieter neighborhood or walked in areas where there are not lots of dogs.
The ideal home would have plenty of room for Baboo to run. She likes to run far off leash and chase her sister Daisy. Baboo can swim in the river but she is not as keen as Daisy. Although neither of them has ever gone in the swimming pool. Baboo fell in once when they were playing but she swam out. Ideally a really active couple or family. Baboo would run with you
Does the dog like children?: Yes
Where does the dog sleep?: On their sofa or her bed.
Is the dog allowed on your furniture?: Yes
Does your dog like cats: Unknown but probably not
Is the dog crate trained?: No
How does the dog react to being left alone?: They are hardly ever alone because we are retired
Please list any particular fears your dog has.: Men with goatees, sunglasses and baseball caps. Daisy is also afraid of loud trucks.
Describe any training the dog has, tricks it knows, and any experience with a trainer.: No formal training. She is house trained and knows sit, come and down. Very food orientated to perform these tricks.
Does the dog have any known health problems?: No
Does the dog like riding in the car?: Yes
What is the dog's favorite : She doesn't really play with toys, she has a large variety and balls. She does fetch. She loves going on walks and Running off leash in big open spaces.
What does the dog like?: McDonald's Ice cream cone, cheese (Baby Belles), belly rubs, and walks.
What does the dog dislike?: Men with goatees, sunglasses and baseball caps
Is the dog a digger?: No
Please describe a typical day for your dog: We wake up at 7.30 a.m. and let them out to go to the bathroom. After that they get a couple of little dog biscuits or treats. Then we go for a half hour walk at 9 a.m. around the neighborhood. Another treat upon return. They lounge on the back deck or their sofa and then they might go out in the back yard to chase squirrels. I feel then at 4:30 p.m. dry dog food. Then we go for a walk at 5.00 p.m. around the neighborhood. Then we go in the back yard for a while till sunset and then inside for the evening.
Please provide a summary of the "ideal" home for your dog:: The ideal home for my dogs would be a home that has some wide open fenced land and also an active couple or family. I love to see them run when the lake is down and they have a large area to play with each other.
$350 adoption donation for bonded pair.