Cherry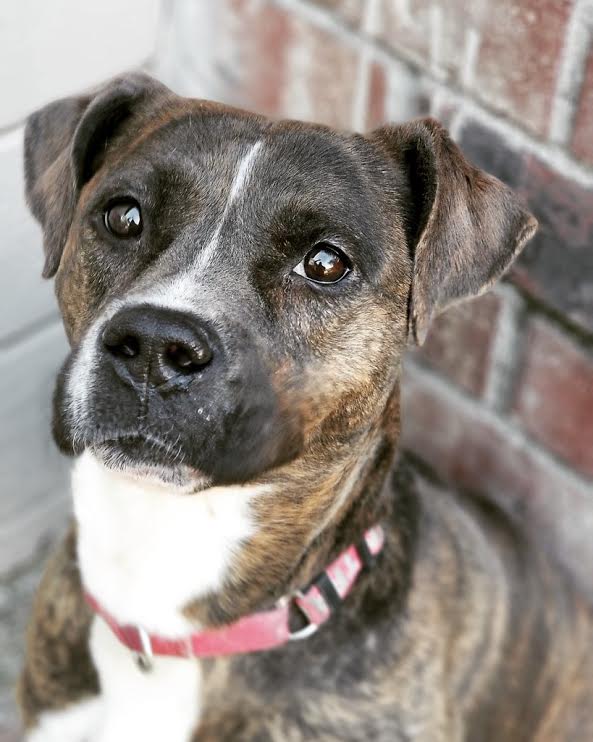 Origin: Cherry was picked up by animal control with her three baby girl puppies, and brought to the Martinez CA shelter before HFP rescued them. Cherry's puppies were adopted quickly, but Cherry has been waiting almost a year to find her forever home. We were able to connect with Cherry's original "family" -- we learned she had been a backyard only dog in a big family. Exposed to many children, there were children in the home and lots of kid visitors who Cherry consistently interacted with. She is a great family dog but was not socialized with animals in her past life.
Exercise needs: Moderate to Low. Cherry would love a leisurely walk in the morning and another walk at night. She loves fetch, so a home that will play fetch in the backyard with her is ideal! Otherwise, she is content to snooze the day away!
Animals: While Cherry can walk in public without reacting to dogs, and even walks well with dogs + supervised around dogs, she does need to be an only pet in the home (no cats).
Behavioral Cues: Knows sit, down, stay, place, leave it. Crate-trained. She is also Housetrained.
Other: Travels well in the car. Does not bark excessively. Continued structure and crating ideal.
Current Location: Cherry is in a board and train program in Carmichael Ca where she is ready to meet.
Ideal home: Cherry would do fine in a home with a working schedule that will give her a daily walk and play fetch + provide lots of cuddles. Quiet neighborhood. Secure 6 foot fenced Backyard in a pet-free home.
Loves most: Fetch, naps, and snuggles.
$100 adoption donation: spayed, vaccinated, chipped, utd on monthly preventatives.