(Courtesy Post) Kenway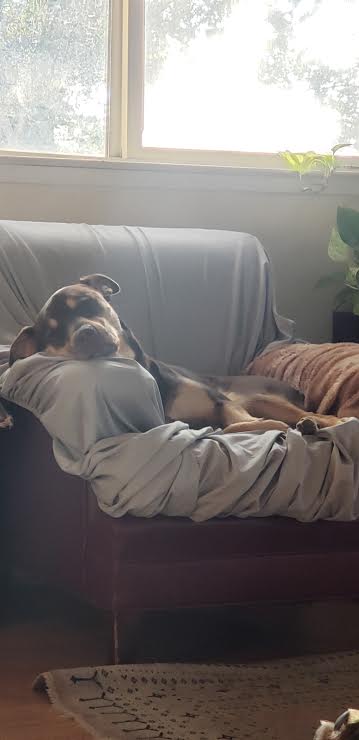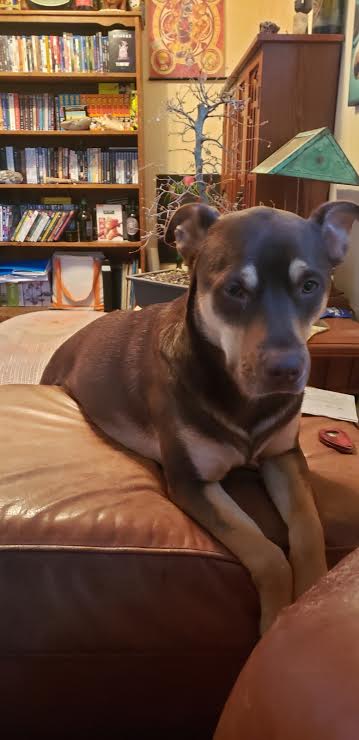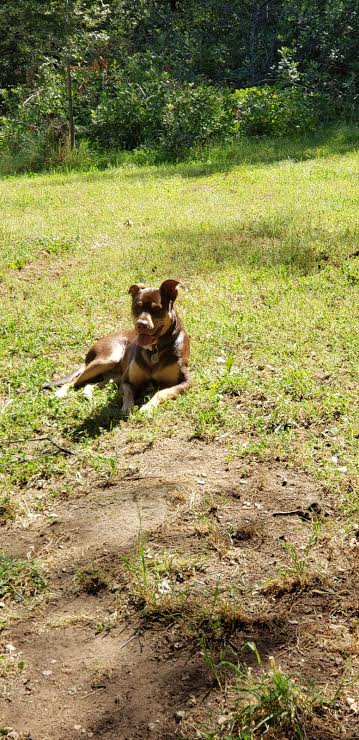 Kenway is a 1.5 yr 60 lb neutered lab shepherd mix, nearly perfect in most ways — however his owners feel he needs a home with a fenced yard and someone able to work with him on basic leash-reactivity. He gets so excited to play with other dogs that in his excited state he pulls, barks, and lunges to be able to go see and sniff dogs. ** HFP Note: Leash reactivity is a trainable and correctable behavior with the right handler and trainer **
Here is what the owners have to say about Kenway:
Where did you get this dog?: Craigslist from a family that could not care for him
How long have you owned this dog?: 8 months
The following questions will be of help to the person who will adopt your dog. If there is anything you would like to add that may make your pet's adjustment to a new home easier, please feel free to share that information below. : Kenway loves to snuggle, sunbathe, and play in the sprinkler. He loves durable chewing bones. I do not recommend taking him to very public places like markets, crowded parks,
Check the words that best describe your dog.: FRIENDLY, PROTECTIVE, NOISY, ACTIVE, PLAYFUL, AFFECTIONATE
Is the dog currently on vaccinations/preventatives?: Yes (heartguard), bravecto, dhpp, rabies, bordatella
Is your dog housebroken?: Yes
He has anxiety/overexcitement when outside of the house. He wants to play so bad he barks until he can reach other dogs and appears aggressive. However, he is truly submissive and playful/loving/snuggly. As soon as he meets the other dog, he usually rolls over and tries to play. He looks like he is running at people/ dogs though so they have gotten scared. Without a fence, he will run after scats. Squirrels, Turkey, deer, etc. We had him seen by a behavior specialist who recommended more time slowly introducing him to situations and disengage game with treats.
Does the dog get along with:: Dog-Friendly
Please elaborate on your dogs interactions with other dogs in detail. He has lived with another dog for the last 8 months and they get along great. He loves to play and snuggle with the other dog. He is submissive and will let the other dog steal his toys or bone. He also gets along well with neighbors toy poodles and 2 large dogs. As l ok big as he can go up to meet the dog, he calms down a bit. He is worse on a leash since he cannot get to the other dog. We have been able to walk him fine on not so crowded streets, he is great.
How is your dog meeting strangers?: Very friendly with strangers, just wants to get up to them to sniff
Does the dog like children?: Yes
What are their ages?: He gets along great with niece- 7 and nephew-2
What BRAND of dog food is the dog fed?: Diamond naturals. Salmon and sweet potato
Any specific feeding instructions you would care to share with your dogs new owner?: He will sit for his dish before you put it down. Very good boy
Where does the dog sleep?: On dog bed, on a large armchair or at foot of our bed
Is the dog allowed on your furniture?: Yes
Is the dog crate trained?: Yes
Where do you keep your dog: He is allowed to roam the house free- he does not chew or have accidents
How does the dog react to being left alone?: Usually calm and sleeps a lot. No problems when leaving for work or small trips.
Please list any particular fears your dog has.: Thunder
Desrcibe any training the dog has, tricks it knows, and any experience with a trainer.: Sit, shake, stay, lay down, heel, will sit and wait at open door before you say he can go out
Previous owner took him to approximately 4 group training classes.
Does the dog have any known health problems?: No
Does the dog like riding in the car?: Yes
What is the dog's favorite : Durabone
Rope (tug of war)
Sprinkler/hose
Water-sprinkler or hose (put him inside if you're watering your garden)
Walks
Sunbathing
Cuddling
What does the dog like?: Durable chew toys, water, tug of war, sunbathing, cuddling
What does the dog dislike?: Thunder, Getting his nails trimmed
Does the dog jump kiddie gates or fences?: No
Is the dog a digger?: No
Are there any things you think a new owner needs to know?: You should have a fence and bot try to take him to very public or crowded areas, not until he has some.more time to mature. His overexcitement gets high in those situations that he has difficulty calming down, listening, or responding to treats.
Please describe a typical day for your dog during the workweek (what time wake up, when eat, how many walks a day, where to -- dog parks, trails, neighborhoods, runs, etc), how long left home alone, what time to bed?: Wake up 6am. Goes out to bathroom and eats breakfast. He stays in the house with the other dog and is let out again at noon and 4. He plays with the other dog inside or in the yard. Dinner around 5 or 6. Sleep around 10. During the weekend we walk him or take him to run around with the neighbors dogs. We have left him home alone up to 6 hours.
Please provide a summary of the "ideal" home for your dog:: Those who want an affectionate, sweet boy and are willing to wait for him to mature before taking him to very public places. He would be great at a house with a fence. Friendly with kids and other dogs. A person who does not go out of the too frequently or gone too long for work
Interested adopters please contact: Nicole at nmcalma@gmail.com or (510) 967-2773