Mr. Bear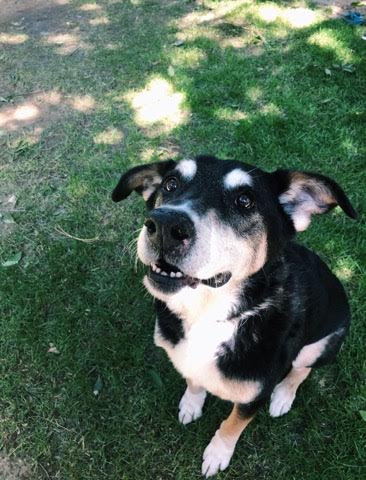 Mr. Bear is a sweet Aussie/Collie mix looking for a forever best friend. The ideal home will be low-moderately activity-level, single person or a couple.
While Bear loves following you room to room, and laying next to you on the couch or bed, he prefers affection on his own terms and sometimes needs his own space from over handling.
He doesn't ask for much, but is very grateful. Bear can be sensitive to loud noises and lots of hustle and bustle so a quiet neighborhood would be best and a lot of visitors can be overwhelming to him — he is crate trained and would prefer to be put in his own space when new people come over so that he feels safe.
Bear is non-reactive/friendly to dogs on walks, has done great meeting nice dogs, but doesn't like over zealous ones in his space, or ones who act aggressively; Grandpa Bear would love to be king-pet of his own castle in his retirement age. He is very friendly greeting strangers in public, but again does not like to be pet too much by people he does not know.
Who can give Bear a quiet, warm and safe space to live out his golden years?
$100 adoption donation: Neutered, vetted, vaccinated, microchipped.
Please make sure to complete your application as thoroughly as possible — (and include requested pictures of home/yard/any current pets)— to help us get to know you and your home as a dog owner!
We try our best to respond in 1-3 days. If it sounds like a good potential match for your and the dog of interest, we will work with you to schedule a meet and greet.
If it is not the most ideal match, or if you don't get the original dog you apply for, we are happy to keep your application on file for new incoming dogs!