Puppy John John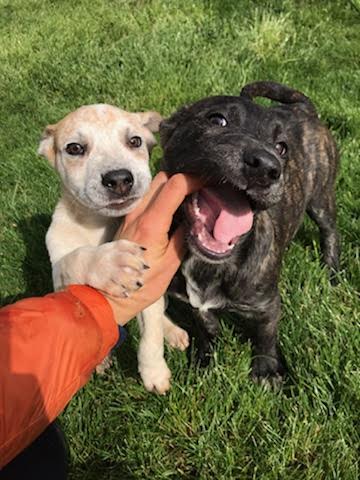 Puppy John John (one of the 3 brindle boy triplets) is a happy, friendly, social, active puppy who will be a big boy full gown. Active, big-dog lovers with the time to devote to companionship, exercise and training a must.
Owner surrendered to HFP Mom was a German Shepherd and Dad was the neighbor mutt (Terrier/Cattle Dog/Husky) -- an accidental, unwanted litter out of Central California.
Active, social, friendly -- they will thrive in active homes with commitment to positive training and exposure to new people/animals.
Looking for homes with:
1. Flexible work schedule/time to devote to puppy training, socialization, exercise and companionship
2. Preference to friendly dog role model in the home
3. Preference to home owners with fenced yard
4. Preference to owners with experience raising dogs
$375 adoption donation -- vetted, vaccinated, dewormed, flea treated, microchipped. Adopters are responsible for finishing age-appropriate shots & providing proof of spay/neuter between 5-6 months of age.
Please make sure to complete your application as thoroughly as possible — (and include requested pictures of home/yard/any current pets)— to help us get to know you and your home as a dog owner!
We try our best to respond in 1-3 days. If it sounds like a good potential match for your and the dog of interest, we will work with you to schedule a meet and greet.
If it is not the most ideal match, or if you don't get the original dog you apply for, we are happy to keep your application on file for new incoming dogs!