Reggie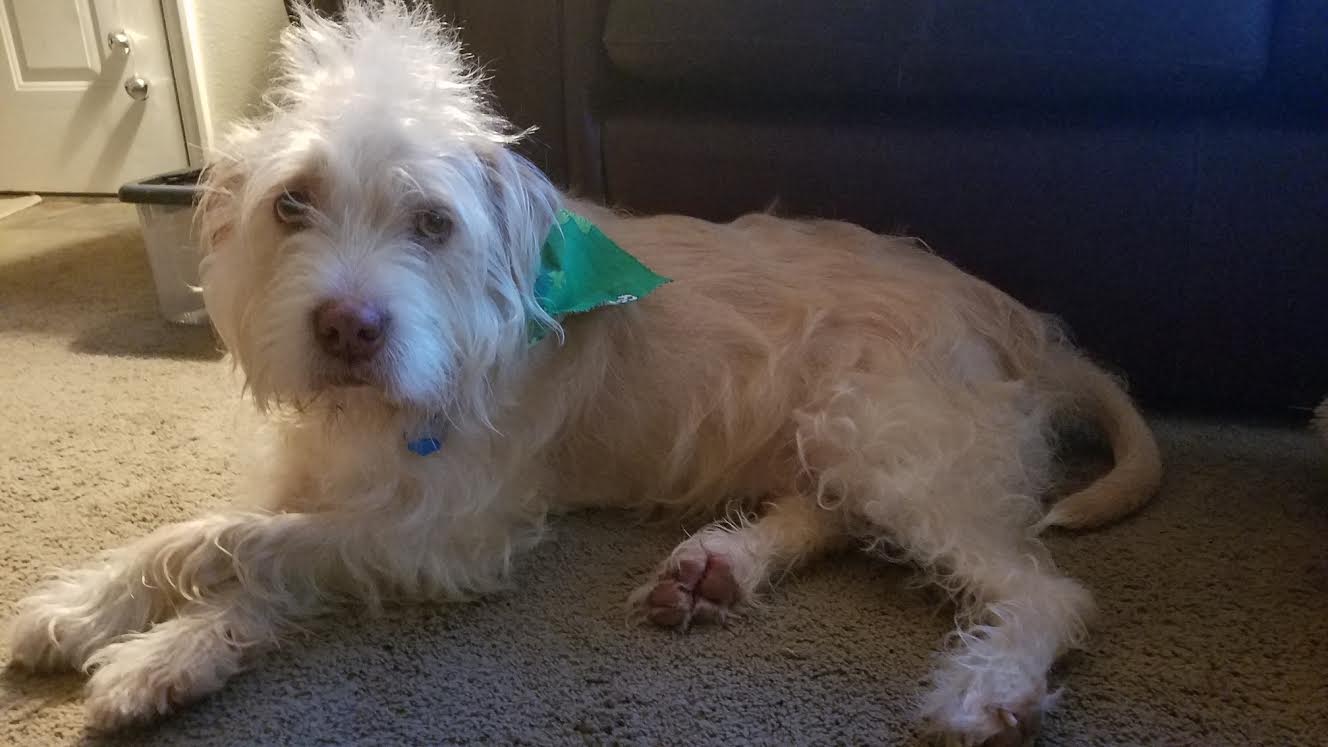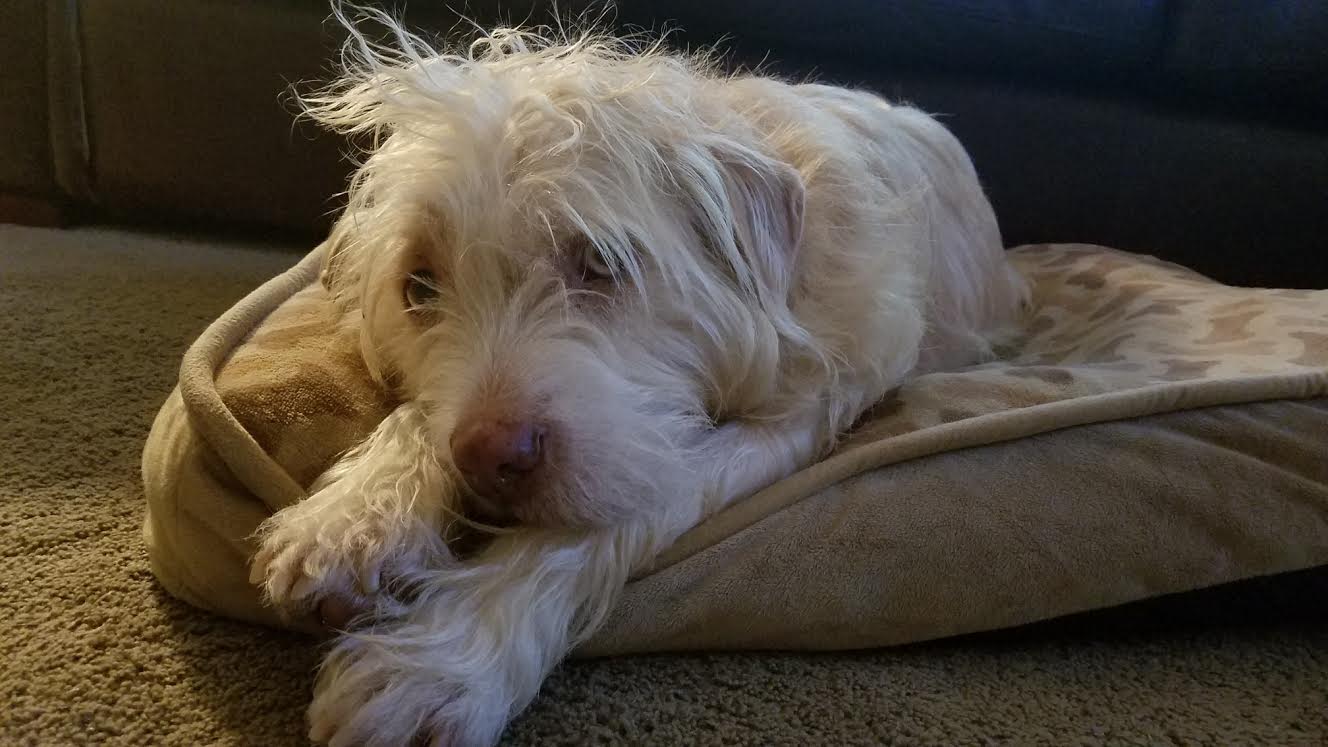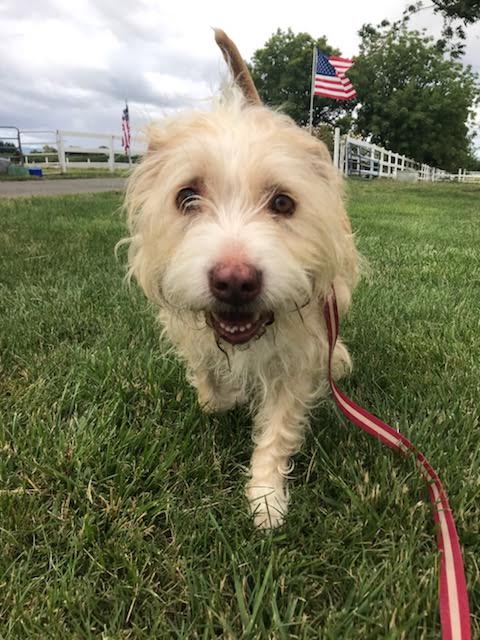 Meet Reggie: We originally saved Reggie from the Stanislaus county shelter a year and a half ago, after he had been hit by a car. Reggie was always an easy going and friendly guy. He thrive in his foster home & then was adopted a few weeks later. We just got this message that the family is no longer able to keep Reggie due to demolition of their house, but that it is no fault of his own, he is a wonderful dog!
We are committed to finding Reggie the BEST home that will love him, cherish him and adapt with life's changes. Sweet Reggie is a 7 yr old Wheaton Terrier who weighs 48 lbs. He is great with dogs and kids, housetrained, neutered, vetted, vaccinated, chipped and utd on monthly preventatives.
Why is the dog being given up?: Our home is being demolished - literally. Most of the house is under construction and being torn down to the studs. We are living in an RV and we have no yard. We love Reggie but we have no place to keep him. He is miserable and deserves better.
He loves to go for walks. He always wants to be in the same room as his family and is very affectionate. Reggie is a little touchy about his back end and I think it is because he was hit by a car before we adopted him. That said, he loves his back, right at tail, to be scratched.
Check the words that best describe your dog.: FRIENDLY, PROTECTIVE, QUIET, AFFECTIONATE
Is the dog currently on vaccinations?: Yes
Is the dog on heartworm preventative?: Yes
Is your dog housebroken?: Yes
Are there any behavior problems?: No
Does the dog get along with:: Dog-Friendly
Reg is great with other dogs. The owner of the kennel (Arden Creek) has told me that if all the dogs were like Reggie, she would not need any employees. :)
Does the dog like children?: Yes
Are there children in the home?: No
What are their ages?: We have grandchildren 2, 6 and 12. Reggie likes them and is happy to see them but I always make sure dogs and kids are monitored together and never left alone.
Any specific feeding instructions you would care to share with your dogs new owner?: With us, he took a week or two to settle down. It really helps if you talk to him. He is so affectionate and loves to feel like he is part of the family.
Where does the dog sleep?: He sleeps on his bed next to our bed.
Is the dog allowed on your furniture?: No
Is the dog crate trained?: No
Where do you keep your dog: In our house (now our RV). Sometimes he can go outside with my husband who is building our home.
: With us. He lays in the living room while we are watching TV and in our bedroom with us at night.
Please list any particular fears your dog has.: Nothing that we know of.
Desrcibe any training the dog has, tricks it knows, and any experience with a trainer.: He doesnt know any tricks but he is a good boy. When he goes for a walk, he pulls for the first couple minutes because he is excited then settles down.
Does the dog like riding in the car?: Yes
What is the dog's favorite : He doesnt really show interest in toys.
: Getting petted and going for walks. He mostly loves to be with us and he LOVES to be talked to.
What does the dog like?: Being talked to and being petted. He loves to go for a walk. He likes to be scratched on his back by his tail. He shuts down if overly harsh correction.
Does the dog jump kiddie gates or fences?: No
Is the dog a digger?: No
He has a great mohawk and he is such a sweetheart. He just hangs out with us and is very affectionate. Sometimes he chases his tail - so funny. The biggest thing is, he loves to feel a connection, to be talked to and petted. Then he lays down and just hangs out. He greets me every day after work, so excited to see me. Also, since we do not have a yard, he has gotten out a couple of times and does not wander far. He stays close to his family and home but we live close to a busy street and with the construction we need to get him to a safer environment. He is pretty low key and EXTREAMLY cute.
Are there any things you think a new owner needs to know?: Please give him lots of love. If you talk to him he will love you and you will be his best friend.
Please provide a summary of the "ideal" home for your dog:: Someone who has time to spend with him and has a yard. He needs lots of love. He just wants to be connected with someone.
Adoption donation $250: vetted, neutered, vaccinated, chipped and utd on monthly preventatives.